Material Area
Clean raw materials and meeting the standards determine the product quality
Standardization of raw material areas is vital for most manufacturing industries, especially for the food industry. While many Vietnamese food enterprises are still struggling to find a solution to this problem, many other businesses have by cooperating with AFCHEM found out the answers for the safe and high quality grass jelly products.
Growth characteristics of Mesona Chinensis Benth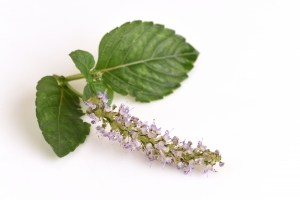 Mesona Chinensis Benth (scientific name) is a special tree, the more difficult the weather conditions are, the stronger the tree will grow. These trees become low and strong in the harsh environment with thick leaves which make a better taste when put into production. The best area for planting is medium highlands having long periods of sunshine, large temperature differences and good drainage which help the trees have a stronger gel. 
Suong Sao in Thach An District - Cao Bang Province - The main material area of ​​AFCHEM
Identifying the importance of a qualified raw material area which is the golden key to producing good products, the Company has looked at a lot of material areas both domestic and oversea and realized that Cao Bang province has special climatic and soil conditions that are very suitable for growing Menosa Chinensis Benth. Arming at the best quality, AFCHEM chose this place for its key raw material area.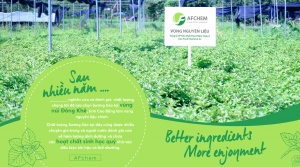 AFCHEM's strategic cooperation for the key raw material areas
Currently, the company is cooperating with the Cao Bang province and the Project VIE36 of Luxembourg to support the development of this material area.
At the same time, AFCHEM is cooperating with the National Institute of Nutrition to carry out a Scientific Research Project on the nutritional composition and precious biological substances of these trees in Cao Bang province.
With strategic cooperation, AFCHEM has been supporting farmers at the raw material area to control from cultivation, fertilization, and the use of pesticides to ensure quality and productivity for the best. At the same time, AFCHEM also builds standardized warehouses to keep the best quality of raw materials before being put into production, avoiding mold, yeast, and harmful microorganisms.
Not only using standardized and safe materials from nature, AFCHEM's grass jelly powder is also manufactured by using advanced technology in Vietnam. With state-of-the-art machines and quality control processes that meet international standards, all AFCHEM products, before being delivered to the market, go through a rigorous inspection process. 
The line manufacturing Mesona Chinensis Benth was certified by SGS to meet the ISO 22000: 2018 and HACCP standards